I hope your New Year is off to a good start and that you
are making progress with your luthierie projects. I know we have many builders whose shops are either in their garages or in out buildings that are not well heated, and that makes it very difficult to do your work as well as manage the environment to protect you woods, adhesives, and finishes. If you are storing wood, please ensure that it is "stickered" (where boards lay on top of boards separated by slats of wood called "stickers." And, also ensure that the vertical arrangement of stickers is one directly over the other so that the boards are not being bent. The stickers allow air flow through the boards and reduce the risk of condensation and mold.
We've had a busy December (thanks to you!) and as always, we've being very selective about the woods we purchase. We just came across an amazing lot of red spruce for mandolin and mandola soundboards and bought several hundred sets. So if you have project you are thinking of – possibly an instrument you are planning to build in the summer or after – this would be a great time to grab one of these soundboards while we have them. You'll find the red spruce here, among our other soundboard options.
Straight Up Strings are really taking hold and we are receiving daily compliments from musicians who share their "new sound" and "new feel" stories with us. We have several dealers who now carry Straight Up Strings including Elderly Instruments, Gruhn Guitars (Nashville), and Sylvan Music (Santa Cruz, California) and we will be working on a focused dealer program in the coming months with the hope that you can purchase them from your local dealer. (Got a dealer near you who you think might be interested? Please email me and I will personally reach out to them.)
And, as I promised last month, I am thrilled to report that Bill Evans has come aboard as our first banjo endorser for our Straight Up Strings for Banjo. In addition to the new sound of his 1930 Gibson Granada, Bill was very impressed with the new feel. "Right from the first," he told us, "I noticed that the strings were incredibly consistent in terms of the amount of energy it takes to play with the picking-hand fingers." His experience is based on the balanced down-pressure of Straight Up Strings that equates to a balanced side-pressure as the strings are pressed by the fretting hand. Bill's choice is the medium gauge and he'll be heading out on tour as Crary, Evans & Spurgin next month.
We've heard from Jim Hatlo that he's written an article on strings for the March 2015 instrument issue of
Bluegrass Unlimited
magazine. Jim worked with me at
FRETS Magazine and was very involved in the string development articles and Frets String Clinic columns we were preparing then. I look forward to reading the article and I wanted to alert you to look out for it, too.
We've just come back from The NAMM Show in Anaheim, California.
NAMM
(National Association of Music Merchants) is an organization that is now in its 115th year, and this is our opportunity to meet with many of our vendors who come from around the world to show their goods. The expectation is that 70,000 attendees will pass through the NAMM doors during this four-day weekend. During the event, we were very excited to receive a plaque from Joe Lamond, president of NAMM, commemorating our 50 years in the music business. Pictured below are me, Kali, Amy, and Joe Lamond, NAMM President and CEO.
Lastly, but by no means least, we are now gearing up for our July 2015 Luthierie Camp. This will be our 16th Camp and the program has been as enriching for us as I know it has been for our Campers.  During this camp, you can build an F5, F4, or A5 mandolin, and you leave with one that is tap tuned, and fully assembled. While there are some tasks for you to do when you get to your workbench (there's just so much we can do in a program-=packed week) all the critical tasks are completed. Kali says she still has a few still open as of this writing. If you are interested, this is a great time to contact Kali and make you reservation.
Thanks for building with us…
We've been busy keeping up with your orders (thank you!) and enjoyed an action-packed January. Among the highlights was being at NAMM with Roger when he received the award presented for 50 years in business. We also learned about a very special video archive they've been compiling. Do check it out!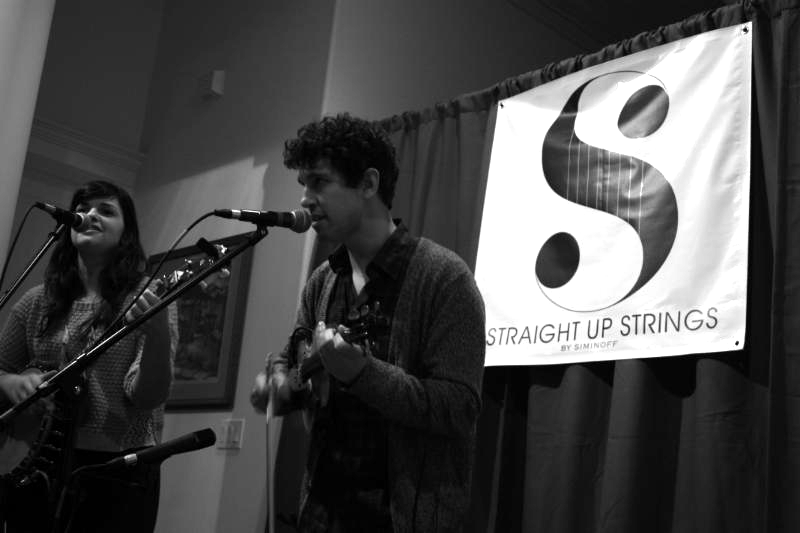 On January 31, we presented a house concert with 10 String Symphony. Along with their two 5-string fiddles (=10 strings), this duo filled the room with their voices, banjo and, sometimes, metal mandolin(!). They're currently touring the West Coast, so be sure to catch them if they're coming to a venue near you.
Luthiers Tip (Fish Glue):
I've received several emails from folks wanting to know more about the hard (fish) glue we sell. Fish glue is a great substitute for hot hide glue (HHG), and its bonding characteristics and hardness are similar to HHG. However, unlike HHG, fish glue can be worked cold, it's always at the ready, it's open time is about 15 minutes (compared to 10-15 seconds for HHG) but it has a long clamp time (about 12 hours). Hard (fish) glue can be diluted and/or cleaned up with water, and it softens at about 150°F-160°F just like HHG. I've never experienced problems with it softening or releasing in high humidity. Further, it has a very long shelf life and can quickly be brought back to a usable consistency with water.
During our Luthierie Camps we give the luthiers a piece of rib stock, and have them put similar-size dabs of hot hide glue, fish glue, Titebond Original glue, Franklin's Liquid Hide Glue, Titebond II, Titebond III, and Gorilla glue on the board and label what they are. The next day, they do a very simple hardness test by poking the dried dabs with an X-Acto knife.
Part of the experiment is to notice how the various glues shrink (or bubble in the case of Gorilla glue), and how some of them shatter if you hit them harder with the knife (guess which two shatter. Then we do a heat test, and I suggest they take the boards home and do a soak-in-water test.
Next time you place an order, try one of our small bottles of Hard (fish) Glue, and so some tests – I think you'll be very pleased. And if you have many of these glues available to you, try this easy experiment, I think you'll learn a lot.
Next month, I'll talk about the attributes of some of these other glues.
Luthiers ask:
Q: I've heard about a tool called "magic probe" that measures thicknesses of soundboards and backboards on assembled instruments. Do you recommend these?
A: There are several similar magnetic devices and they work reasonably well. If you are doing a lot of measuring, or need to know measurements on instruments where you cannot remove the soundboard or backboard, then a magnetic measuring device is a fine tool to have. My comment that they work "reasonably well" is that where critical measurements are needed, having the soundboard or backboard off the instrument and using a deep-throat micrometer is the best way to derive precise measurements. One problem with the magnetic probes is that if the ball gets caught by a piece of dust or a small indent in the wood or anything that causes it to lag behind the measuring head, then the distance from the ball to the measuring device could be greater than the actual thickness of the part and it could yield a faulty measurement.